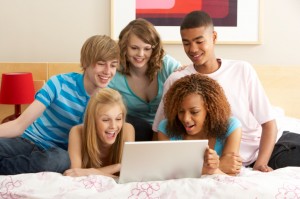 One of the biggest challenges on Facebook for small businesses is how to keep their fans frequently engaged.  Other than that, Facebook's algorithm for showing your page's posts is dependent on how much user interaction is coming to your page  How do you work with that?
Here are 3 ways you can get your fans active on your Facebook page.
1. Spice Up Your Status Updates.
Word your updates in fun or quirky way such as "We're concocting a new item on the menu! It looks like uncooked pasta dipped in peanut butter."
Don't forget to add a call to action like, "Like this if you want a sneak peek!"
If you're posting questions and get no replies, you might just be asking the wrong ones.  In the point of view of your fan, ask yourself if you would answer the question.

2. Add Visual Content.
Human beings are visual creatures so we respond better to visual cues.
Instead of posting a boring text status update, include a photo or a video along with it.
You can also come up with an image with a famous quote you believe in or something that applies in recent events.
For videos, it should be simple and short.  You can let fans know about upcoming activities, give them a quick tip or even just give them an update.
3. Stir It Up.
Once in awhile, set aside business matters and start socializing.
Other than product and business updates, post or share things about pop culture or current trends and affairs. (Ex. You gotta love watching The Voice.  Who are you guys rooting for?)
When it comes to engaging your fans, the number one rule is to have fun along with them.
High engagement on Facebook is a great business strategy because this will help motivate fans to patronize your brand.  Not only do you stir up activity on your business' Facebook page, you also establish and build a connection with your fans.
Posted on October 12, 2012 by Sandra
{ Comments }