Although there are many factors that contribute to how and what people buy online, Color remains one of the strongest and most persuasive visual cues.
Web and graphic designers depend on a set color scheme for each of their designs. Color is laid out not only to set out an overall mood for your site, but also to influence your site visitors to do certain actions like view, read, click or purchase. Here are some quick tips before deciding what color scheme to go with for your business website or online store:
1. Know your target market.
Identify your target market. What age bracket are they in? Who are your products for? Do you want to convey a feeling of luxury  in your homepage?

2. Keep it simple.
Don't overwhelm your web visitors with too many colors on one page. Use two or 3 colors and work around their different shades or values.
3. Make your your website navigable and easy to use.
Consider page load time and also allow convenience with shopping carts, shipping options and payment gateways.
Finally, check out these 3 awesome Infographics about color and the way it is used in bringing customers to stay your business website.
How Do Colors Affect Purchases?
Color affects the overall appearance of a website and increases brand recognition. Color can also  attract specific types of shoppers and influence shopping behavior.
Source: Kissmetrics

Color Choices and What They Mean
Your colors may look visually pleasing but is it psychologically pleasing?

Source: TechKing
Learn From the Top Brands
To round it off, here's an Infographic about The Colors of the Top 100 Web Brands.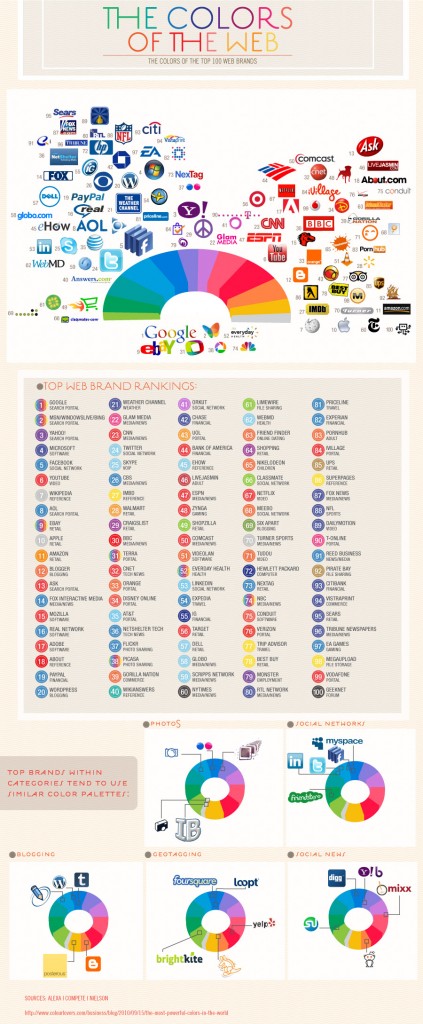 Source: COLOURlovers
Get the latest on the best website design tips and small business marketing articles by Liking us on Facebook and Twitter.
Posted on February 6, 2012 by Eve
{ Comments }